Growing up in rural New Jersey in the 70's/80's, houses were plopped onto large parcels of land. My family's house and those of our neighbors each sat on an acre of largely unwooded land. I don't remember much about neighborhood etiquette, but I do remember that a well-tended lawn with high quality grass was prized by the men of the neighborhood. Powerful lawn tractors were status symbols in the neighborhood and we kids were the cheap labor our parents forced into servitude. I spent countless hours of my youth on the lawnmower daydreaming about 1) getting my father to buy a faster lawn mower, 2) wishing someone would invent a robot lawn mower, 3) girls – not necessarily in that order. Sometimes my daydreaming was punctuated by running out of gas, mechanical problems, rain, or darkness.
When it came time for my wife and me to buy a house, the last thing I wanted was responsibility for a large yard. By design, my wife and I live in a small but nice house with a very small yard. The yard is mostly weeds with a smattering of grass. However, when cut low, the lawn is green and to a distracted observer it appears to be lush grass. Outdoor upkeep is minimal and well within my capabilities as a 55 year old man. I used a reel mower for many, many years for several reasons:
I feel virtuous not to use an engine
Good exercise
My yard is small enough to not require heavy equipment
I didn't want the same hassles of gasoline lawn mowers from my youth,
Little storage space
Environmental concerns
Feeling a part of the Reel Mower community  (see photo below. I've never "marched" in the parade with them, but feel a spiritual reel mower kinship with them)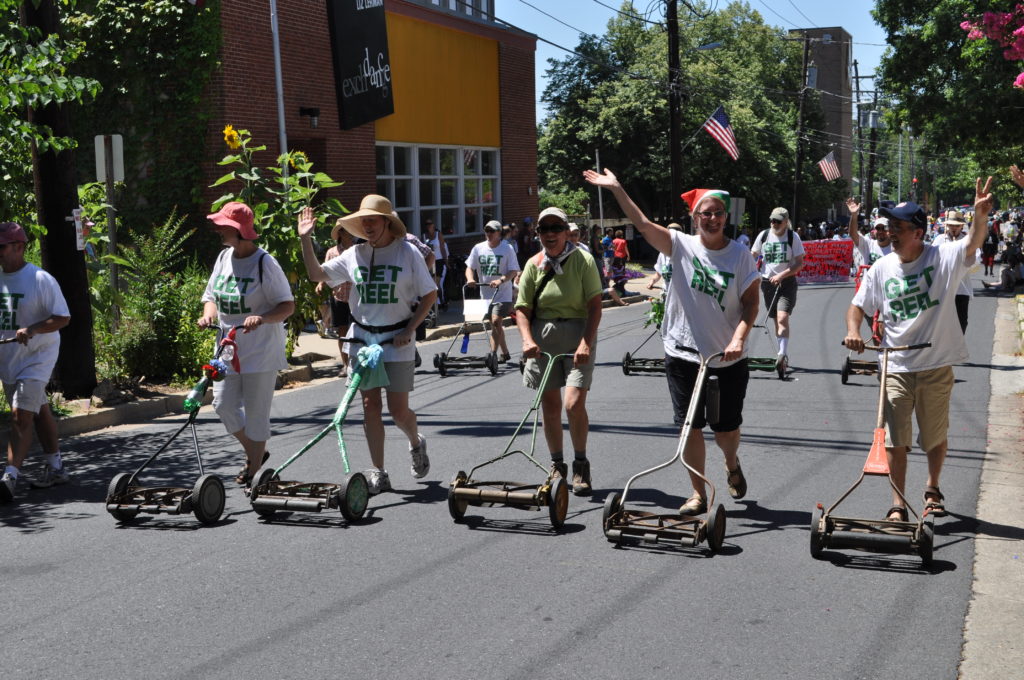 Although my yard is small, the terrain is uneven and root filled. The reel mower was difficult to use even in my prime. As both I and the reel mower aged it became harder and harder to effectively cut my lawn. I tried to sharpen the blades of the reel mower and it didn't make much difference. This was compounded by then having to tidy up with a corded weed wacker. I have a 100′ cord that enables me to cover most of the yard.
I came across the Black & Decker Cordless 3-in-1 Trimmer/Edger and Mower (https://www.amazon.com/dp/B00HH4K548/ref=twister_B00HR8356Y?_encoding=UTF8&psc=1) and thought it sounded perfect for my needs. Just to be clear, I'm not shilling for either Amazon or Black & Decker. What I found, almost immediately, was that this product completely changed the game for my lawn mowing.  By not having to struggle with the reel mower or deal with the corded weed whacker, I was able to cut my grass and make it look great in less than half the time it took before. I also found that with the two included batteries, I had enough juice to cut my elderly next-door neighbor's yard as well as our neighbor on the other side – a family with their hands full with very young children. Now, in about the same time as it took before, I can cut three yards. Although it's not such terrific exercise as the reel mower, it's great to be able to help my neighbors with such minimal effort. It's also a kick to look across three yards that are all cut uniformly and neatly  It feels like a big accomplishment and it only takes 30 minutes!
This tool meets my needs perfectly but everyone's different. Those with large yards will probably find it ridiculous to even consider cutting their grass with a weed whacker that snaps into a base with wheels. But if you've said before, "My yard is so small I could cut it with a weed wacker," this may be just the ticket.