I have the most sedentary of jobs – I manage product development at a software company with remote workers. My "office" is usually the easy chair in my living room. A large part of every work day is spent on video calls with colleagues and consultants who are all over the place. Most of us remote workers who need to speak with others have to use a headset instead of speaking into the microphone of our laptops. The ambient noise that is picked up by the laptop mic is plenty annoying to those listening.  Since my ultimate goal is to get others to agree to my hare-brained ideas, it's best not to annoy them with bad sound quality.
For the longest time, I was convinced that there was no good wireless headset and I was destined to remain forever tethered to my computer with a USB connection. I tried and returned expensive wireless headsets from Bose, moderately expensive headsets from Logitech, inexpensive headsets, and everything in between. I could always hear others just fine, but my voice sounded bad to them. I came to believe that a bluetooth connection just isn't good enough for crystal clear voice communication across the internet.  That is, until a friend told me about the Plantronics Voyager Focus Bluetooth headset – https://www.amazon.com/gp/product/B013F4LJTI/ref=oh_aui_search_detailpage?ie=UTF8&psc=1. At $215, it's plenty expensive for a headset, but this thing has changed my work life. Not only does it free me to stand up and walk around, get the mail, make a sandwich while no one's the wiser, it also has active noise cancellation and enables me to talk in some noisy places without any sound issues for listeners. This means that I can work just as effectively from my local coffee shop where it's very loud as I can in my quiet home.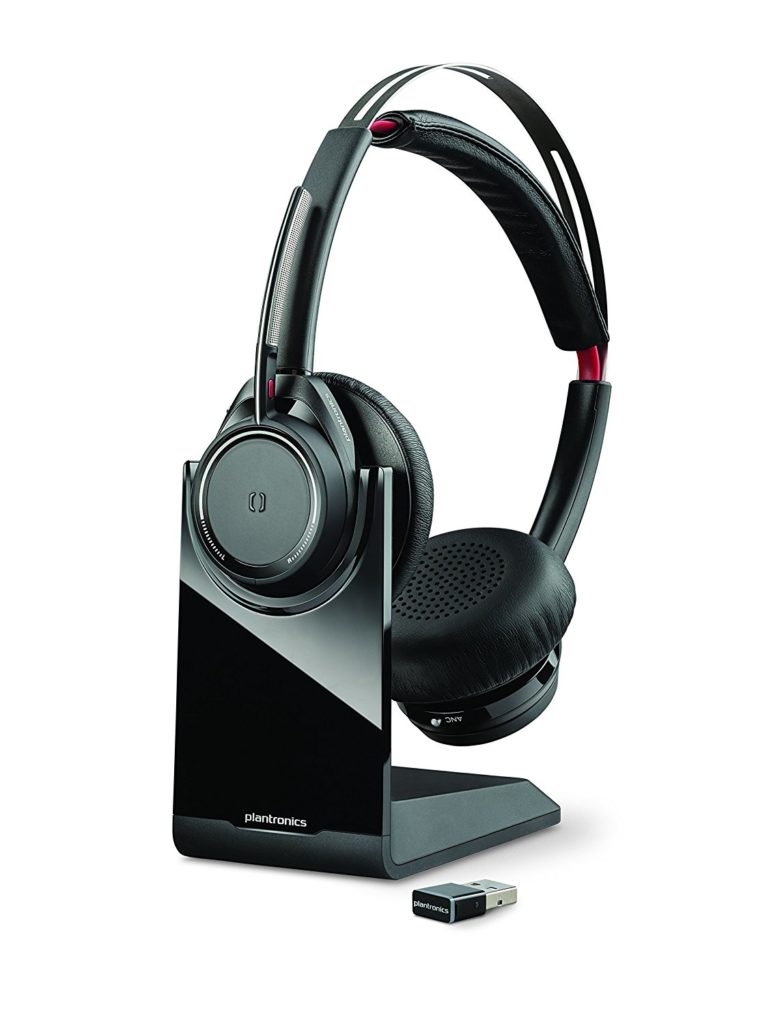 The key to the setup is a dongle that plugs into the computer's USB port and connects to the headset; this connection is better than a standard bluetooth connection without the dongle and provides excellent sound quality.
I've come to realize that the perfect headset for voice communications doesn't exist. For those of us who are on calls many hours a day, comfort is paramount. While ear sweat doesn't approach underarm sweat in offensiveness, it's a problem with most headphones, especially in the warm weather. There are some very expensive headsets for helicopter pilots that I suspect provide great voice quality, but look unbearably hot. This Plantronics headset has pleather ear covers and they rest against the ear. They are comfortable for long periods, but do make my ears hot. Lots of people prefer headsets with cups that sit over the ears, not against the ears; this is not the headset for the over ear contingent.
Once again, this suits my needs almost perfectly. For those who want to listen to music, a Bose headset provides a far superior listening experience. For those who want freedom of movement while talking, this headset is the one.